Strengthen brand experiences with an easy-to-remember wake word
Audio branding is nothing new. From the familiar three tones of NBC-TV to the whisking-away sound of emailing in Microsoft Outlook, we're used to associating sounds with brands. Since virtual assistants and voice technology have come to the forefront, brands need to realize that this first encounter is the most important one of the interaction. When you say "Alexa," you know you're talking to Amazon, and you know that "Hey Siri" awakens Apple's voice-enabled software. But how can users get to your world?
Your voice roadmap is a critical extension of your brand. Some experts advise brands to partner with a known platform, like adding Alexa or Google to automobiles or appliances. But for brands that want to retain control over their brand and user experience, creating a custom wake word is the way to go.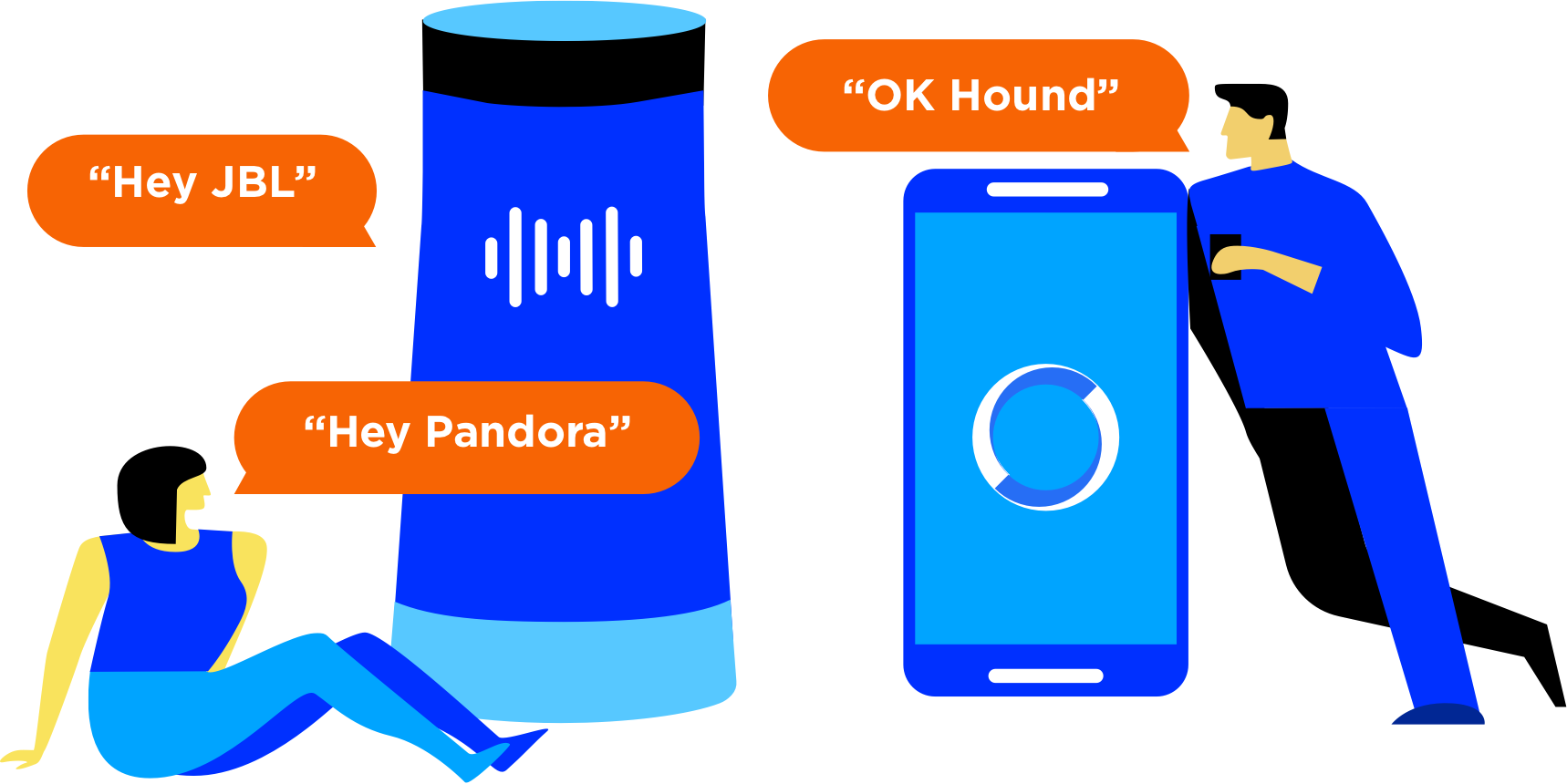 Branded wake words enable brands to deepen user engagement, control the user experience and own their customer data.
For Motorola, the catchy "Hello Moto" phrase wakes its voice user interface on many of its smartphones. Mercedes-Benz owners are already summoning their in-car voice technology to do things like set a radio station, temperature, and seating position by saying, "Hey Mercedes..." And of course, a breezy "Hey, Pandora" sparks a personalized musical experience that's a huge differentiator from its competitors. Connect the customized wake word with your brand itself, rather than inserting another brand wake word into the mix, and increase product name affinity.
Understand which voice truly personifies your brand
You've probably had experience creating user personas — the composite traits of a typical customer of your brand. You give them photographs, names, ages, and a back story. Have you ever tried going the other way and created a persona that represents your brand? If your brand were a person, who would it be? Would it be a serious and professional colleague, a friendly, chatty helper, or a funny, clever friend? What's its name? What gender is your brand? What does the tone and pitch of its voice sound like? Shoe companies often hire sports stars to be the voice and face of their products because customers relate to characters most like themselves, or like their ideal selves.
If your brand were a person, who would it be? Would it be a serious and professional colleague, a friendly, chatty helper, or a funny, clever friend?
Austrian chatbot provider Onlim advises its customers to understand their consumer base and design the voice assistant to fit the customer personae. Consider the voice gender, age, race, and personality. The smartest direction to take would be to craft your voice assistant based on a diverse set of customer data and explore options where users can select their preferred voice. This way, you can avoid potential biases and design an assistant that resonates with your audience and feels natural to them.
"For a lot of brands, especially big brands, you already have a brand experience your customers recognize. So it's really extending that same experience to another venue, through voice. It should always start off with, what's the business goal and who are you today and is this going to be multichannel or via a new channel," advises Heidi Culbertson, technologist, VUX designer and the founder & CEO of Marvee.
Pay attention to vocal characteristics when choosing a voice user interface to ensure that the character is right for your brand. Once you've done some market research to determine who your audience is, test some synthesized voice personas until you find one that matches both your audience profile and the image you want to project.